This wiki is still a major work in progress, and a lot is being worked on. Please be patient.
—Newmaker
Petscop
Petscop is a faux-PlayStation exploration game, in a similar vein to Yume Nikki. When started, the game shows a splash screen for "Garalina". The copyright listing on the title screen also says "© 1997 Garalina".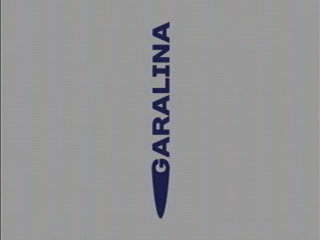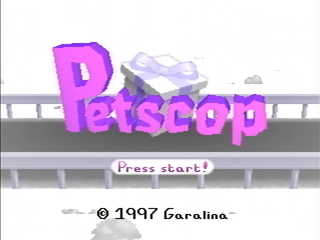 In-universe
Origins
This section is not finished.
Something about Paul's mother having had it in her attic for years?
Note included with the game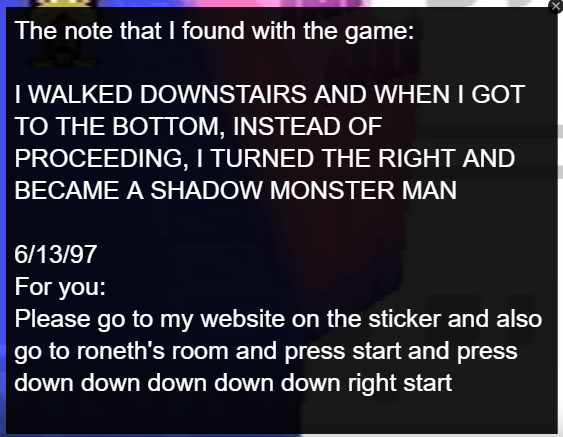 Paul (or the uploader, in any case) included an annotation with the Petscop 1 video, from a note supposedly included with the game:
The note that I found with the game:

I WALKED DOWNSTAIRS AND WHEN I GOT TO THE BOTTOM, INSTEAD OF PROCEEDING, I TURNED THE RIGHT AND BECAME A SHADOW MONSTER MAN

6/13/97
For you:
Please go to my website on the sticker and also go to roneth's room and press start and press down down down down down right start
The website mentioned has never been named. It may be the "Petscop Discovery Pages" mentioned in Petscop 14.
Others
This section is not finished.
At least one other person has played Petscop. Paul is talking to them at the end of Petscop 8, but we are only given one side of the conversation.
In-game
See Pause menu and Loading screens for details.
Reality
Real or fake?
Petscop is not a real PlayStation game. The game demonstrates capabilities far beyond what the original PlayStation was capable of, and an absence of its limitations. The game features very precise real-time lighting effects, and does not exhibit the problems that would manifest from the PlayStation's lack of floating-point precision or perspective correction. The color depth is also too high to exist without heavy dithering.
It is very likely, if it is a game, to be written in a modern engine (such as Unity), rendered at a low resolution with NTSC-like shaders.
The Sony and PlayStation logos in the beginning of Petscop 1 were spliced in to help the illusion.
Twitter account @Petscop
The Twitter account is fake. Someone figured that Petscop was going to go viral, and squatted on the name. This is generally known as gamejacking — someone other than the storyteller attempting to interfere with the story. So far, there is only one tweet, though.
Origins
Petscop was originally posted to Reddit's creepygaming subreddit, by a user who had just registered and has not posted anything before or since. It is likely the author, "seeding" the story. There doesn't seem to be any other points to who is behind the story.
Some fans suggest that it might be "Night Mind", a YouTube commentator on horror/creepypasta games, who has said that they were "working on a project" and "wouldn't tell anyone they were behind it until it was over". Night Mind has stated they aren't involved at all.