This wiki is still a major work in progress, and a lot is being worked on. Please be patient.
—Newmaker
Office

Very office-al.
The Office
The Office is a small, enclosed room. Unlike the rooms nearby, this room does not have an echo effect to sounds within it. It has the common red-ground-like walls; its floor is white, with a gray hexagonal pattern tiling over it. Somewhat uniquely, the floor in this room is only about half a "block" thick. It has a passageway to the Zig-zag picture path on the left, and the Office Hallway on the right. The room is shaped similarly to a flipped Furnace Room — rectangular, with a small pushed-out alcove on the bottom left where the door is.
It features a line of

3 along the bottom wall, slightly left of center.
Features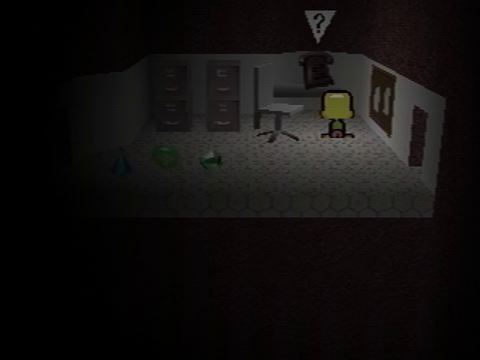 Office Junk
There are several pieces of office furniture present, mostly along the top wall:
Two gray filing cabinets, in the upper-left corner
A gray desk in the upper-right corner, with a black phone on it
A white rolling chair, in front of the left part of the desk, facing the right wall
A corkboard with two notes, on the right wall
Of these, only the phone and corkboard are seen to be interactive.
Phone
The phone is capable of ringing; while it is doing so, it is audible from the Office Hallway, and it will animate on the desk. It can be answered by interacting with it.
Doing so will cause the receiver on it to animate fully upright (as if it has been picked up). Once it has been answered, it will return to its normal appearance, with the receiver on top of it.
A/B/NLM Note
The corkboard on the right wall appears to have two papers stuck to it; when Paul interacted with it, it showed the A/B/NLM note (above). (📝 POI: There appears to be two notes on the board, but we are only shown one; it is unknown if there is another note that can be seen, or if there is indeed only one note that can be seen.)
This note appears to reference Care, showing a picture of her face across her Care A, Care B, and Care NLM states.
Appearances
Petscop 2
In Petscop 2, Paul enters the office from the Office Hallway to the right. The phone is already ringing, and he immediately answers it:
| Image | Text |
| --- | --- |
| | |
After checking the phone, he examines the A/B/NLM note and comments on it, before picking up the

3 in the room and leaving for the Building Photo Path.
Petscop 8
In Petscop 8, Paul briefly passes through this room on his way to the Furnace Room and the Newmaker Plane, attempting to locate Marvin. The room is otherwise ordinary and empty of pieces.